Q&A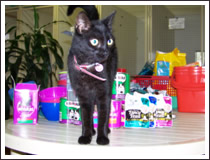 HOW MUCH DOES BOARDING COST?
Small dogs $17.00 per dog per day
Medium dogs $18.00 per dog per day
Large dogs $22.00 per dog per day
Cats $14.00 per day for each cat
Special Needs $20.00 per dog, per day
Public Holidays An extra $5 per pet will apply on these days
Our charges are per calendar day, irrespective of drop-off or collection time. We reserve the right to charge a fee of $25.00 for out of hours drop-off or pickup.
WHAT ARE YOUR BUSINESS HOURS?
Tues Wed Thur. 7am – 10am then 3pm – 6pm
Fri Sat Sun Mon. 7am – 6pm
HOW DO I BOOK MY PETS ACCOMMODATION?
Bookings can be made by phone 0249 307612 or marcia@lochinvarpetmotel.com.au To secure bookings for holiday periods we suggest booking as early as possible. For some periods kennels may be fully booked 3-6 months prior to the period, so it is important to book early.
WHEN CAN I BRING MY PET?
Pets can be checked in during business hours. It is best to bring your pet as early in the day as possible as this gives pets a chance to settle in and become accustomed to new surrounds before night fall.

WHEN CAN I DROP OFF AND PICK UP MY PET?
Pets can be checked in and out during business hours. If you arrive out of hours to collect your pet, you may be subject to an out of hours charge of $25. If you have pre-arranged an early pick up or drop off time with management prior to collection, this fee will not apply.
IS IT POSSIBLE TO ARRIVE OUT OF BUSINESS HOURS?
Yes, it is possible to arrive out of hours if you have pre-arranged a pick up or drop off time with management prior to your arrival. This ensures a staff member will be present to welcome you.
WHAT DO I NEED TO BRING FOR MY PET?
We will need to sight a current vaccination certificate. This certificate must have a minimum 14 day vet clearance . Please bring any special foods or medications your pet requires. Please ensure medications and food are clearly marked. All food must be portioned. A small surcharge for medication and owner supplied food will apply. All dogs must have a collar with identification.
CAN I BRING MY PET'S FAVOURITE TOYS AND BEDDING?
We provide plenty of bedding and toys however you are welcome to bring a favourite toy or bedding if you wish. We do not wash owner supplied bedding if it becomes dirty in any way. We do not take any responsibility for lost or damaged belongings.
WHAT MEALS DO YOU SERVE?
We use only high quality foods for doggies and pussy cats.
Doggies – Our dry food is Optimum and this is served with a variety of accompaniments including VIP chicken roll, BBQ sausage, homemade dishes of mince, rice and vegies.
Pussy Cats – A variety of "brand name" sachet and dry foods including Fancy Feast Royal, Optimum, Purr and Cat Meow.
DO WE BOARD AGGRESSIVE DOGS?
No. Unfortunately we are unable to cater for aggressive dogs.
Remember to book early for peak periods