CATTERY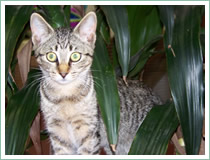 The cattery has excellent fresh air circulation and air conditioning is used when weather conditions require, to ensure the comfort of all our guests.

Your cat will enjoy the comfort of a "floor to ceiling" suite with adjoining covered outdoors area for sunning and afternoon naps. For the cat that prefers to be indoors we have 'floor to ceiling" suites complete with lounge chair. All suites have solid divider panels, snuggly sleeping areas, are roomy and can easily accommodate families.

Guests receive individual pats and cuddles in the "living room" and allowed to roam in this area while suites are cleaned daily. Toys, lots of TLC and genuine care and love of cats will ensure your special pussy cat/s enjoy the time spent with us.

All cats are fed the highest quality food. Feed bowls are washed after each meal and water bowls washed and refilled with fresh water daily. We are only too happy to give any medication or special foods provided by you at a small fee.

Vaccinations are vital and we are unable to accept any pet without sighting a current vaccination certificate. Feline current F3 certificate.